Active Attack Integrated Response (AAIR) 4/4-5/2022
April 4 @ 8:00 am

-

April 5 @ 5:00 pm
AAIR is a 16 hr performance level direct delivery course designed to improve integration between LE, Fire, EMS and Tele-communicators.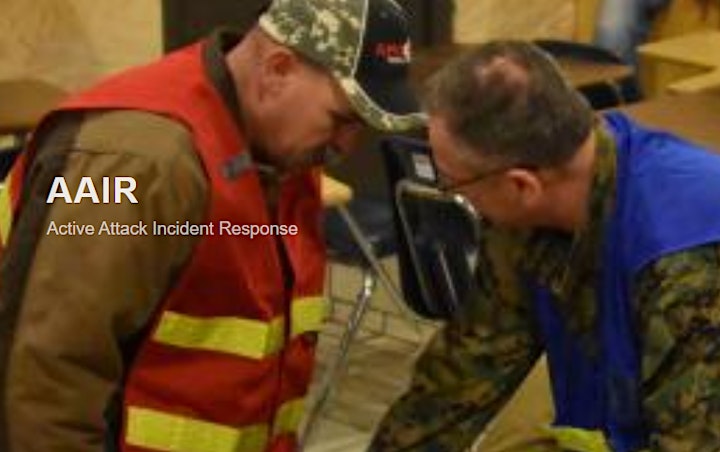 Time: (16 hours/2 days) Start time 8AM daily
Class Size: 24 students, 14 LE from multiple agencies, 8 Fire / EMS, and 2 Dispatcher per class.
Prerequisite: Participants must be state-certified law enforcement, fire, EMS or tele-communicator or EMS providers. EMS providers should be EMT-B certified (preferably EMT-I or EMT-P).
Description: The Active Attack Integrated Response Course (AAIR) is a 16 hour performance level direct delivery course designed to improve integration between law enforcement, fire, tele-communicator and emergency medical services (EMS) in active attack / shooter events. The course provides law enforcement officers with key medical skills based on tactical emergency casualty care (TECC) guidelines, which can be used at the point of injury (POI) to increase survivability of victims. The course also provides a model framework for law enforcement, fire, and EMS to integrate responses during an active attack / shooter event through the rescue task force concept. This course has been designed to improve the safety and survivability of victims of active attack / shooter events and increase the effectiveness, coordination, and resource integration between law enforcement, fire, tele-communications and EMS when responding to these events.
Required Equipment: Good attitude, open mind, pen and paper, duty gear or training uniform.
Recommended Equipment: Participants may wear their agency issued or approved uniform to class each session. This course is a hands-on training course and participants are encouraged to wear appropriate clothing for conducting practical exercises and scenarios. Fire and EMS personnel do not need to bring bunker gear. Department or agency issued or personal weapons, both primary and secondary, are not required for this course. Officers are responsible for properly securing their weapons during the training course and should follow agency policy. Ammunition, weapon magazines, batons, electronic control devices, knives, and pepper spray are not allowed in the training area at any time during the course. Duty radios for use in train-ups and scenarios is strongly encouraged. This allows each individual to work with their equipment they'll be using in an actual incident as well as it tests interoperability of the system once multiple agencies are on scene.
Lodging and Meals are provided by a Mississippi Homeland Security Grant.